References EN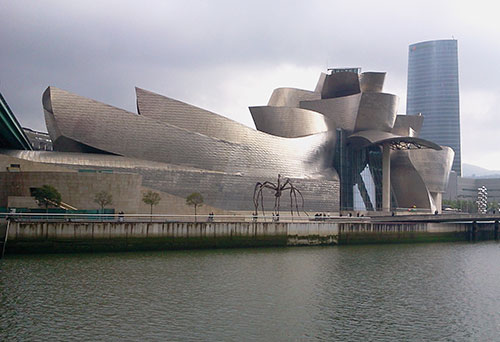 GUGGENHEIM MUSEUM BILBAO
The originally designed outdoor structure was made of polished stainless steel, and the documentation for the bid was prepared accordingly. However, the prestigious architect Frank O. Gehry was not 100% convinced with this material and studied different options. Through Timet, our partner mill, we sent him a sample of the titanium that was later used as coating. Finally, we were chosen to chemically treat and laminate the raw material. Together with its chromatic properties, highly valued by the American architect,titanium's extraordinary mechanical properties were also taken into account, along with its resistance to corrosion. Moreover, its lightness, plasticity and flexibility compared to other materials, allowed its easy adaptation to the complex surfaces of this radical design, opened in 1997.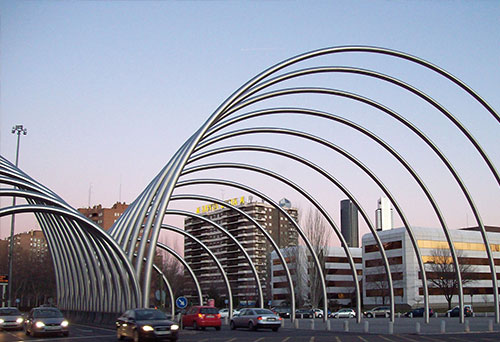 PUERTA DE LA ILUSTRACIÓN
The monumental sculpture designed by Andreu Alfaro for the Ilustración avenue (Madrid, Spain), opened in 1990, is a Baroque and dynamic crossing of diagonal forces in spiral acceleration, where in one of its longitudinal directions, a sense of centripetal absorption is created, while in the other, a sense of centrifugal expansion prevails. For this monument, we supplied and assembled the 26 bends of the sculpture, made of Ø 480 mm stainless steel AISI-304 polished pipes, with a variable Ø between 12.5 and 42.5 m. We were in charge of all the works involved in the assembly, from the bending of pipes to supply and place the anchor plates, with their lugs and gusset plates and the steel framework reinforcement.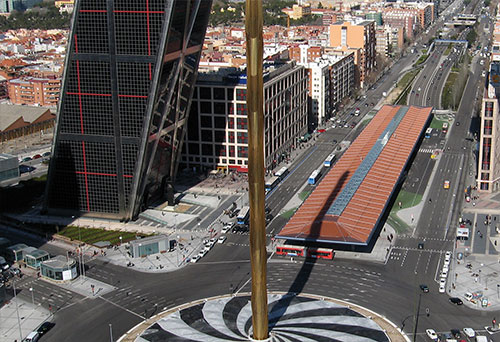 PLAZA DE CASTILLA CAJA MADRID OBELISK
Calatrava's obelisk was the gift that Caja Madrid donated to the city of Madrid to celebrate the company's third centenary in 2009. The architect Santiago Calatrava was chosen to design it, and defined it as a mobile monument, between architecture, sculpture and engineering. His aim was to give it a special touch, a modern and futuristic look with a large pointed column, to hold the sky over the city of Madrid. Grupo Cuñado supplied 103,000 kg of CUSn6 bronze strips. Such strips, placed as a rib system, turn in an elliptic movement around the central steel tube, tilted and radial, with a difference of milliseconds, it looks like a never-ending screw.
LETTERS OF RECOMMENDATION
The highest requirement level of our customers is fully satisfied and, as a result, we are proud to show some of the Letters of Recommendation we receive from them, recognizing our effort, dedication and commitment to meet their needs.