What identifies the Group and makes us different from the rest.
The market is becoming more and more competitive every day. New technologies and globalisation often contribute to blur identity values.
In order to compete and succeed, Grupo Cuñado has developed a great team, enabling our company growth. Our Customer service culture, focused on identifying and satisfying their current and future needs, makes a trustworthy relationship based on professionalism, trust and efficiency.
The main difference between companies is the human factor. This is the strength of our Group.
Respect, commitment and responsibility.
Respecting others, agreements and deliveries reflects the Group's commitment to the project, our customers and partners. Our business is based on professionalism and engagement of all of us, regardless of position in the company.
We compromise and make decisions, and we know how to delegate and involve everyone in the business, by growing and helping to grow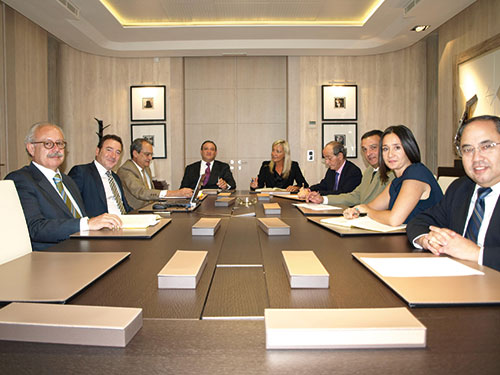 We want to grow and improve.
We have strong values which guide our steps. Values that we share with every person involved in our projects.
Integrity.
To be honest is to be consistent with our own beliefs and values. Integrity is based on self-esteem, confidence and the value of the person or professional. It also means being honest with ourselves, knowing our limits and admitting our mistakes, in order to out-do ourselves and grow thanks to our solid background.
Innovation.
Innovation is necessary to meet our customers´ needs. We must anticipate their requirements, developing new and competitive products to increase our advantage over our competitors, being more flexible and responding faster to market changes.
Continuous improvement.
Our activity is focused on results, with quality and efficiency criteria, by providing added value to our clients. We are continuously thinking, not only about what we do, but also about how we do it. If there is a better way of doing things, our aim is to find it, improving processes.
Teamwork.
The team performance will always be higher than the individual one. We do not work alone. We focus our efforts on creating synergies with our colleagues and other departments, improving communication in every sense of the word, so that we work as a cohesive team.
Profit reinvestment.
Grupo Cuñado reinvests 100% of the profits, which are directly allocated to improvements, for the sake of our clients.