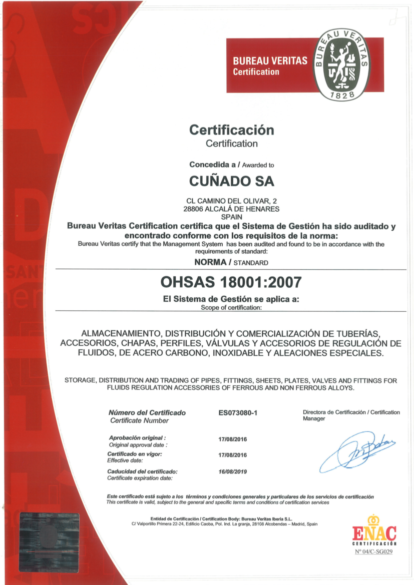 Grupo Cuñado obtained the Occupational Health and Safety Management System Certification (OHSAS 18001), a formal procedure to reduce the risks associated with health and safety in the work environment for its employees, customers and the general public.
The OHSAS 18001 management system certification provides the following benefits to our company:
Minimize the risks of production delays
Provide a safe environment to do business
Demonstrate our commitment to maintain an effective health and safety policy
Minimize risks of downtime through accidents
Demonstrate our commitment to meet legal obligations
Possible cost savings from public liability insurance premiums
Maintain compliance to legal requirements
Provide a robust system to maintain and continually improve health and safety
To obtain OHSAS 18001 certification includes compliance with:
Define responsibilities for safety and health at work.
Establish a policy defining clearly the commitment of the company.
Identify the different aspects of safety and health at work related to activities, services and products of the organization.
Make an impact assessment matched to the activities of workers.
To Implement procedures of OSH Management System.
Establish indicators to measure processes.
Monitor the efficiency of the management system through indicators
Apply Corrective actions according to the analysis and results.